Quaker Monastery Home
---
Video: the Peace Doves of Quaker Monastery, from hatch to flight.
Scroll down for more information.
White doves are universally recognized as symbols of peace and love. They are beautiful in flight and can add touching memories to a special memorial event.

A Peace Dove Release is nice way to incorporate these symbolic associations into life's meaningful occasions, and can make an event unique, dramatic and unforgettable.

A Peace Dove release is also a beautiful alternative to gifts or flowers.


Quaker Monastery Peace Doves
As part of their peace ministry, white doves (homing pigeons) are specially raised, and trained for release, by the Friends at Quaker Monastery. The doves actually fly directly home to us when they are released away from the monastery. During the day, the doves fly free around the monastery and at night they are housed in a dovecote where they are safe and secure from predators.

We typically provide 4 - 8 doves for release, along with a prayer or song for peace, customized for your memorial.

Peace Dove Release Service Areas
Our birds are trained for towns up to 30 miles from Harrisville in the north east Michigan area.

Harrisville

Lincoln

Greenbush

Tawas
Alpena

Hubbard Lake

Mio

Glennie

Returning Home
Our doves must be released from your event with enough time to return home before dark. They need about 2 minutes for each mile they fly back to Harrisville. For instance, a release in Oscoda, 17 miles away, needs to be done at least 35 minutes before sunset. A release in Tawas, MI, 33 miles away, needs at least 65 minutes. Visit the Sunset calculator web site to calculate the sunset on the evening of your event.

For the safety of the doves, we do not do dove releases on stormy or high-wind days.

A Peace Minister from Quaker Monastery is also available to say a prayer for peace before the dove release. For the safety of the doves, the doves may only be handled and released by one of the experienced Friends of Quaker Monastery.

A Peace Dove Release for Many Occasions


Church Ceremonies Funerals / Memorials Baptism / Confirmation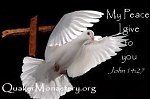 Quaker Monastery Home